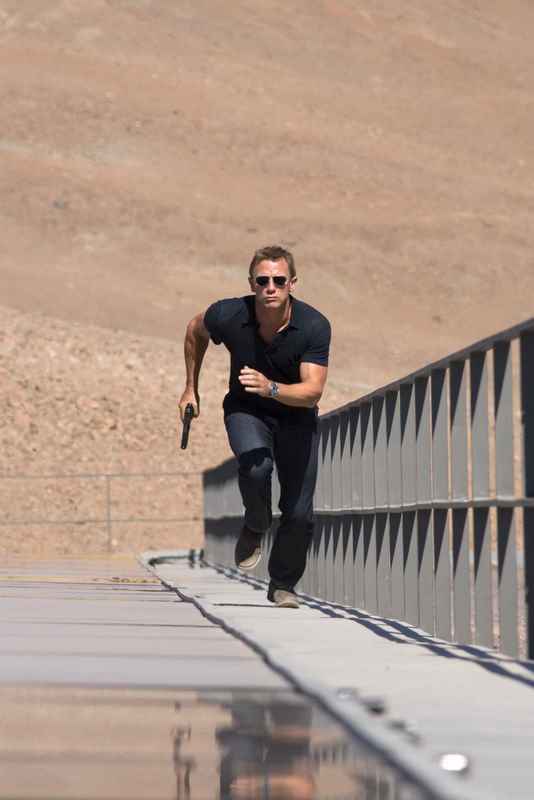 Daniel Craig looked lean and athletic in the Bond movies, without overdoing it.
Part II: Shoulders
In the last article I talked about building a body that women find attractive. It's not the overdone, muscular freak, nor is it the fat guy or the skinny guy that most women find appealing. It's the guy who has muscle, is athletic and lean, but looks good not only in a bathing suit but also a suit.
I mentioned the "X" shaped physique which starts with broad, athletic looking shoulders – the topic of our article today. The first thing a girl's going to see when she looks at a guy, besides his mug, is his shoulders, or his frame. It's not our arms, abs or butt that will first catch their attention, those are the details. So having broad, athletic looking shoulders are pretty important when it comes to attracting the opposite sex.
Almost every girl I have talked to in preparation for this article have listed shoulders at the top of their list for the body part they notice first on a man, and to some degree I think it goes a bit deeper than just looks. Broad shoulders signify dependability, someone who can handle a lot both emotionally and physically. It's someone they can lean on and depend on when times get tough.
That being said, you don't want be a behemoth with massive traps who attracts more attention from guys asking what the hell you're taking, than you do from women. There's definitely a point where it's just too much.
Training Your Deltoids
Your deltoids can take a lot of punishment and recover faster than some of the bigger muscle groups, like your quads, pecs or lats. So when you're training them, really mix up the rep counts in your exercises. Don't just stick to the same reps and sets when you're training your shoulders. I know this can be applied to any muscle group but really mix things up when training your delts.
Lift heavy, lift for hypertrophy and lift for muscular endurance.
One of the big things to keep in mind when trying to build that athletic body that would attract a woman, is to train to build athleticism. This means adding exercises that are more focused on performance than looks, like Olympic lifts such as cleans and snatch – which will help you build power, but also width in your shoulders and that "X" shaped body we talked about.
Here's an example of a shoulders focused workout:
Set 1 – 5 sets of 3-5
A1. Clean + Press
Set 2 – 3 sets of 10 reps
B1. Lumberjack Press
B2. Plate raise
Set 3 – 3 sets of 15 reps
C1. Bent arm lateral raise
C2. Bent over lateral raise
Set 4 – 1 set of 100 reps
D1. Lateral raise – using a light weight (I'll use 10-15 lbs), get to as many reps as possible, drop the weight and continue to 100.
A few exercises you can throw into the mix:
– Incline bench lateral raise. Lying face down on an inclined bench, complete lateral raises slightly targeting your posterior deltoid.
– Pec-deck rear delt flys. Find a pec-deck, face the bench and perform reverse flys. Aim for 1 set of a higher rep count of 30-50 reps.
– Cable laterals. Basically a lateral raise but with a cable. It'll give a different kind of resistance to the exercise.
———————
What exercise would you add to help build round, athletic looking shoulders?