Tribulation is to us what a sharpening stone is to an axe. Obstacles chip away our rocky edges. They discard our weak attributes. The more trials we face, the sharper and stronger we become – if we allow it to be so. Strain can break a weak man, but we're not weak men, so we shouldn't fear tribulation, but welcome it.
Emerson made this great point: "The civilized man has built a coach, but has lost the use of his feet. He is supported on crutches, but lacks so much support of muscle."
As we evolve, we also devolve. As life becomes easier, we can become weaker physically, yes, but emotionally as well. As ease blankets our daily life, it weakens our warrior spirit, it kills our tenacity, strength, and the fighter's heart that we all have, but aren't all connected to, and with.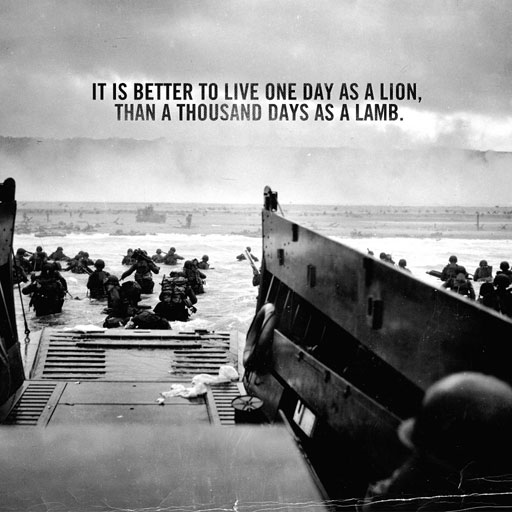 My first fight was a struggle, and I become a better fighter because of it. My lofty goals with this business dictate that my early years – as well as my middle years, and later years – will be a struggle, and I'm better for it. Whatever has come easy to me in life, whether they were good grades without hard work as a kid, or art as a youth as well, have come back to bite me in the ass.
Grades came easy when I was younger, as I entered high school and college I didn't have the work ethic to succeed as I should have in either. My thirst for knowledge had to be given a shot of adversity to come around full circle once again. I now work hard and learn hard, yes, because I'm passionate about what I do, but also in part because I shat the bed in college due to a lack of reading. I won't shit the bed in business or in life; I just won't let that happen. Art was a skill I had, but lost, and haven't regained simply because I didn't practice it. With ease it came, and with ease it left.
Seek the Strenuous Life to Live a Legendary One
In studying great people in history I have to adamantly concur with TR's statement. Not one of the men I've read about, be it Napoleon Bonaparte, Napoleon Hill, Andrew Carnegie, Teddy Roosevelt himself, Steve Jobs, Winston Churchill, or any other on the long, growing list, has lived a life without considerable struggle. Not one of them.
Actually, most of their struggles are not only far greater than our own, but also – in many cases – self-inflicted. Napoleon Bonaparte could have lived a quiet life, but he wanted more. He had a voracious appetite for knowledge. He saw his family's stature in society, and he wanted to elevate it. To do so he needed to grow, to learn, to extend himself. And he did. He placed strain on his life, that strain helped him grow and evolve. Eventually it helped him conquer.
Churchill was born in to wealth, but made his life harder by wanting more, by joining the military, and pushing himself to grow and gain power any way he could. Roosevelt was born a sickly child. One day his father, whom he was very close with had had enough. No longer would he have a sickly boy, but a strong one. So he put Teddy on a weight lifting and boxing regimen. TR grew in to a strong man, with strong values, convictions, and immeasurable ambitions. He pushed himself in every area he could, and his growth as a man reflected that.
The question, then, is if you see the value in a strenuous life, or do you see more in the easy life?
It's a question I've asked myself quite a bit recently. My response is always with another question: it's not whether or not I see the value in a strenuous life, but how do I add more strain to my own?
Physical Strain
We often take our bodies for granted. This site is focused on creating growth, with the body being the first area of focus. With a stronger body we can live stronger lives. We will do more, and live more.
In my own life, I train in the gym 5 days a week, sometimes 6. My program usually calls for 4 days of training, then I'll throw in another one or two lifts to work on weak-points, or to simply use a workout as a work break (which is usually the case). But 45-50 minutes of physical activity isn't enough – at least I don't think it is.
Even if your goal is to gain muscle, in which case you should be training 4 days a week and no more, stay active! Push yourself by joining a boxing gym, or hiking on the weekends, or hunting – heck, do anything, but don't think you have an excuse to sit on your ass and label it as "recovery".
Be Ruthless With Your Time
So much of our time is wasted. We give it to time vampires in our lives – be they people, social media, TV, or any of the other technological advances that take us from our work, and from our growth.
Schedule work blocks in your day, then get lost. Turn off your phone, close the door to your office, do whatever you need to do so the world doesn't know where you are or how to reach you. You'll have no other option than to work, and work hard.
Do the same with your training. Plug your workouts in to your schedule. Use work breaks to rejuvenate you – go for a run, sprints, a walk with your dog, go for a walk in the great outdoors. Make your work breaks productive. Let them aid your creativity and focus, not take away from it (TV or video games are about as useless a break as we can take).
"When you play, play hard; when you work, don't play at all." ~ Teddy
Take Big Risks
We're conditioned to look at risk like the lottery. A mere dollar can bring us immense wealth. It can't. When they say the bigger the risk, the greater the reward, they're speaking the truth. Many of us – myself included – don't know what risks to take, or what risk we want to take.
Take a look at the historical figures I've already mentioned. Each of them took risks in their lives, be they political, financial, or in the direction their lives took. Regardless of the risk, they were always in line with their passion and values – with who they were as men. To understand what risks we should be taking, we need to know our values, where we want to go, who we want to be, but also who we are.
Write this shit down!
This isn't stuff you can ponder, then answer. Grab a pen and a pad and start writing your values and what you want to make of your life. Then take a day, and come back to it.
What are some risks you can take within your life that would sharpen your axe?
Example: I've been feeling the need to travel. So I've started planning a longer trip. But I also feel the need to hammer away at this business and other ideas and projects that I have on the go, so I'm adding more structure, action, and strain in my daily life – all in the name of creating what I want to create.
Do More

We need balance, but maybe not the kind of balance we want. We need to work, and work hard. We need to be ruthless with our work, our workouts, and eliminating distractions, but we also need to get out in the world and pursue growth. We need to try new things.
In my own life, I've found that this is only possible when I'm up and working at 5 am, and I'm ruthlessly tuned in to what I'm doing. If my day starts off with distraction, that distraction will continue to have a larger role in the rest of my day.
Plan more. Get distracted less. And do more. Travel, work, participate, explore, visit places you want to visit. Learn from people, help people. Identify new, exciting things you want to try, and schedule them into your day along with your work.
Now this is a big one, if you're a father, bring your son along. Bring him with you on your adventures, show him how to be a man, don't just tell him what one is.
The Easy Life Is For Suckers
I have great memories of a few vacations I've taken to Maui. What was great wasn't the fact that I left my computer behind and didn't do a whole lot of work, but that we got a lot of cool, exciting shit done. The picture of me to the right was taken on a man-made water slide down the side of a mountain. I went too fast, flew over the edge, and tore the front of my body to shreds on the lava rock gaurding the pool at the bottom of the slide. So much fun!
We used the beautiful island for what it should be used for: adventure. We didn't merely sit on our asses and let time pass.
My goals in life and business are changing and evolving almost daily. My purpose remains the same, but my idea of what I truly want in life is changing. The easy life is leaving this vision, replacing it is the strenuous life.