A2. One-Arm Bent-over Row
Reps: 8, 6, 4, 6, 8 ; Rest: 120 seconds
B1. Push-Press
B2. Snatch
Reps: 8, 6, 6, 8 ; Rest: 120 seconds
C1. Deadlift
C2. Front Squat
Reps: 8, 6, 4, 12 ; Rest: 120 seconds
Day 2
A1. Squat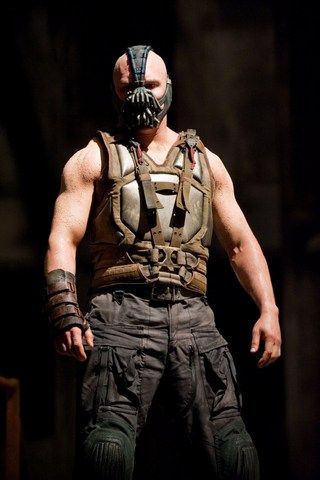 A2. Romanian Deadlift
Reps: 8, 6, 4, 6, 8 ; Rest: 120 seconds
B1. Floor Press
B2. Power Upright Row
Reps: 8, 6, 6, 8 ; Rest: 120 seconds
C1. Weighted Chin-up
C2. Military Press
Reps: 8, 6, 4, 12 ; Rest: 120 seconds
Day 3
A1. Clean + Press
A2.Yates Row
Reps: 8, 6, 4, 6, 8 ; Rest: 120 seconds
B1. Bench Press
B2. Upright Row
Reps: 8, 6, 6, 8 ; Rest: 120 seconds
C1. Bulgarian Split Squat
C2. Single-leg Step-ups
Reps: 8, 6, 4, 12 ; Rest: 120 seconds
The thing about a prison is there's not much room to run around. There are 3 squat meals a day, and no shortage of recovery time. Getting big and strong isn't exactly difficult if you stick to it.
Do this workout for 3-6 weeks. It's as basic and simple as you can get. And you will get strong. Bane strong? Well, we'll just have to see…
Heavy Bag Cardio Finisher
……………………………..