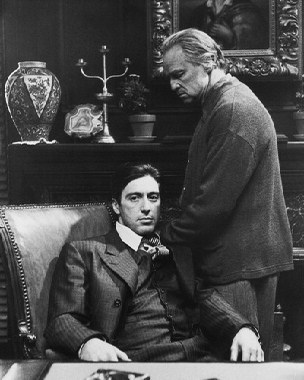 Vito counselling Michael. I have this picture in my place.
Call it a man cave, a bachelor pad, or even call it your fortress of solitude. This is a room, an apartment, or a space with no female influence. This could be your office, your basement, or your whole damn house. But it's yours. It reflects your personality. And it should serve a couple purposes:
1. To inspire. To motivate, and to maintain focus.
2. To calm. To relax, and be a place to unwind.
Two very different things, but two characteristics that are necessary in building the perfect space. This is a place of quality, not quantity. It's a place with a definitive mood and purpose. It isn't just a bunch of junk thrown together. There's no wasted space. Nothing in the room that doesn't somehow help motivate you, or help you relax.
So let's get started. Here's a step-by-step guide to building the perfect bachelor pad, man cave, or domain – whatever the hell you want to call it (this is all stuff that I've incorporated into my apartment).
1. The Liquor Cabinet
There's nothing like a glass of Scotch at the end of a long day. It's calming, it calms the nerves, and it can just completely relax you. I've built a solid liquor cabinet. I have a nice bottle of Amarone vino, the MaCallan 18-year Scotch, a bottle of Rogue Whisky, a very nice bottle of Brandy that I got as a gift, and a couple other bottles of Scotch.
I'm not a big drinker by any means, but it's nice to have there in case friends come over, and for those couple nights a week when I just want to sit back and relax with a couple fingers of Scotch in a glass.
Pairing it with a cigar is bliss. Absolute bliss.
2. The Humidor + Ash Tray
If you like cigars, you need a humidor. It's a waste to buy cigars and to not have a humidor. You can't let them sit, you have to smoke them pretty soon after the purchase. I also suggest getting a nice, big ash tray. Something that looks nice in your place, but is also big enough to enjoy a smoke with a group of friends. I bought my ash tray in New York, the humidor in Vancouver.
Cigars are one of my guilty pleasures and essentials for any man cave. Have them in moderation – 1,2 a month max – but when you do have a cigar, enjoy it. Add a glass of Scotch and fade away. It's as relaxing as life can be.
3. The Double-Reclining Couch
A couch where both ends recline is key. I've placed night stands at either end of the couch as well, so if two guys are playing video games or watching the fights, they can have a beer resting beside them.
I don't spend a whole lot of time in my place at all, but when I'm there in the evening it's relaxing time. In the morning, when I'm getting up at 5, or 5:30, it's go time. Thus far I've talked about the relaxing aspect of the pad, now let's get into the motivating side that every man cave should have.
4. The DVD Collection
Every guy should have a DVD collection. A collection of movies that are entertaining, inspirational and motivational are imperative for those nights when all you want to do is kick back and watch a movie. Or even during a work break when you want to come home and get a much needed kick in the butt to get out there and back to the grind, or even something that'll get you inspired to train.
Some essentials that I have include the following:
Braveheart – Gladiator – the Godfather Trilogy – Cinderella Man – the Rocky's – Goodfellas – Casino – Field of Dreams – Batman Begins – A Good Year – A Bronx Tale – A Beautiful Life – Rob Roy etc…
5. The Art
We don't need a bunch of art in our pad's that need explanation. It's unnecessary. And so, a man's art collection should reflect the kind of man that he is. It should reflect his interests, his passions, and it should motivate him to be the best man he can be.
My art includes a rare Godfather 1 where Michael Corleone is shooting the police chief in the restaurant, a picture of Steve Prefontaine with the quote "Giving anything less that your best, is to sacrifice the gift." As well as a picture of James Dean with the quote, "Dream as if you'll live forever. Live as if you'll die tomorrow."
Here's what to keep in mind: keep the same motif. I went with black and white photos and clear or black frames. Make sure you frame everything. Spend a little extra money and get a good frame, don't just hang posters on your wall. Place them to look nice, but also place them in a way that will motivate you.
6. The White Board
Organization is key for any guy – any person – but especially guys. Women have a talent for being organized. A lot of men have a tendency to be the exact opposite – and I'm in that category.
What I did was I went out and bought a 4 foot by 3 foot clear plastic sheet and some erasable markers. I drew the outline of a week on the board with a permanent black marker, then fill my appointments, goals, and "to-do's" for that week in every Sunday. I also have monthly and quarterly goals that I'll put up on the white board.
It's a great way to stay organized and focused. The more focused you are on your goals, the more likely you're going to achieve them.
Note: Getting a clear plastic sheet – and even framing it – should cost $6. White boards can cost hundreds. Don't waste your money with a white board, safe the dollar bills and make your own.
7. The Library
Today's man is often stereotyped as the beer drinking moron that has nothing worth listening to say. Well, we're not that man. No one I know is that man. And reading is a huge part of being a smarter, better, more well-equiped person.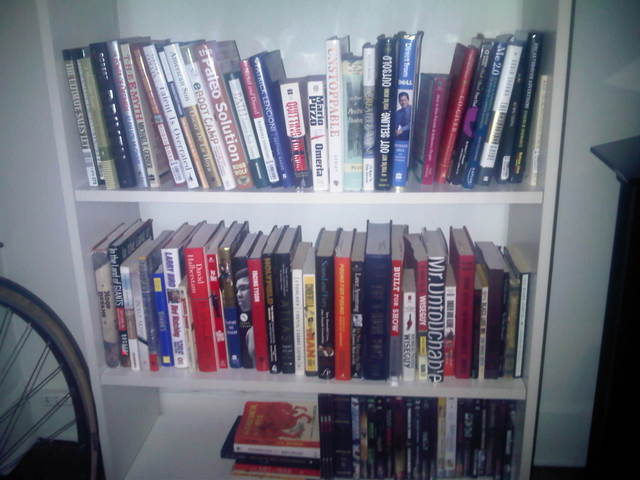 A wise man once said: A home without books is a body without soul ~ Marcus Tillius Cicero.
A statement that I agree with. Up until the age of 19 I think I had read maybe one or two books, now I've got a budding library filled with classics, motivational, self-help, fiction, non-fiction, autobiographies, biographies… You name it, I'm going to read it – if I haven't already.
The book shelf doesn't have to look special by any means, it just has to be added to. I'll read a new book every 2-3 weeks. And I buy books, I'm not a big library guy. My Dad on the other hand always goes to the library. He's of the opinion that if you can get something for free, why the hell would you pay for it?
I love to highlight, then go over a book in the future. I like having them there like a trophy. I've read a few books as of late that I'll keep for life. You can never waste money on a book. If you're unsure about a book, go to the library and start reading it, if you like it, then go buy it and add it to your collection – my Dad does that as well. Smart man.
8. The Motivational Quote in the Washroom
I start my day's at 5 – 5:30 am. The first thing I do is walk to the washroom and splash some cold water on my face – what a great feeling! Right next to my mirror is the quote, ""Many of the great achievements of the world were accomplished by tired and discouraged men who kept on working." I love that quote.
I love knowing that great things come to those who work hard, and work smart. I have no delusions about success. It doesn't come easy, and neither does building character. This quote reminds me every day of this simple, and important truth.
Find your quote(s), and put them in your bathroom where they're very easily seen. Start your day by reminding yourself why you're here and what you're going to accomplish today.
What would you add to the perfect man cave?
It's time to stand up to the challenge and reach your true potential.