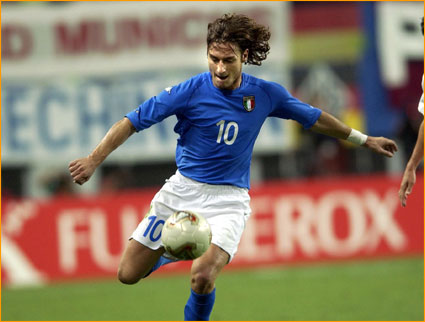 I had to give soccer or football some love for this, the final article in the series. Here's Francesco Totti, the "Prince" of Italian football.
I'll go right ahead and say it, your legs – including your glutes – are the most important muscles when developing an athletic, muscular and lean body that women will find attractive.
Why?
Lets start with pure looks. Training your lower body with effective, heavy exercises like squats and deadlifts release Human Growth Hormone (HGH) and Testosterone – two hormones you need on your side whether you're burning fat or building muscle. So when you train your lower body, you're not just going to see benefits in your lower body, but throughout your entire body.
These hormones speed up recovery, fat loss and muscle production. I've talked about it in length in various other articles on this site, but I think it's so important to continually mention.
Now let's get into functionality. You won't be much of an athlete if you have no power, speed, quickness, strength, or endurance in your lower body. A strong, powerful, athletic slower body is a benefit in any sport, from boxing to basketball, even table tennis and golf. If you want to have a body than not only looks good but performs great, then start working on your legs.
Now back to looks. It looks funny when A guy has built up some serious size in his upper body, but has toothpicks for legs. It just doesn't look right. This doesn't mean you should have monstrous legs by any means, but they should definitely have some size to them.
I mentioned the "V" shaped body in the first article, and I'm sure everyone's familiar with it. But I also mentioned the "X" shaped physique as the kind of body that we should actually be striving for. It's not just the "V" shape that begins with broad shoulders and tapers into a thinner waste, it's also muscular and athletic quads that flow into muscular calves.
A woman's ideal is a guy that has the whole package. Not just in looks but in smarts, humor, a guy that knows how to treat a lady, a thoughtful guy, a guy who she feels safe around, who can provide for her and protect her and who respects her as much or more than he respects anyone else. I guess I could go on forever, but the point is that a girl truly wants the total package, that's there ideal and it doesn't end with a guy's body.
They don't just desire a guy who has big arms, although it helps, they also don't just desire a guy who has athletic, broad shoulders, although it also helps. They most desire a guy who has it all. He has the broad shoulders, thicker, athletic chest and back, solid arms, athletic looking legs and so on.
You can't be all upper body and claim to have the body that'll drive most women crazy.
Training Legs
Lift Heavy and Lift for Reps
Build strength and add weight onto the bigger lifts like squats and deadlifts. Supplement in exercises like front squats, bench squats, hack squats, and even leg presses for variety. But also add in higher rep sets in there as well. Sets of 20 reps for squats of deadlifts, or any of the other exercises I mentioned in there.
I'm big on lifting heavy when training the lower body, but there's never one way to train when you want to build the absolute best body you possibly can.
Single Leg Training
To help fix imbalances and add variety to a routine, add in some single leg days.
Try exercises like:
Step-ups (dumbbells or barbells)
Bulgarian split squat
1-legged leg press
1 legged squat (bodyweight or dumbbells)
Don't Forget About Your Hamstrings
When most people think about training legs they immediately think of quads and calves, but don't forget about your hamstrings. You want a balanced body and training all aspects of your lower body is important in attaining that.
Imbalances in your lower body lead to long term back and postural problems so it's important to train every area of your lower body.
Stretch
Especially when you begin to add on lean muscle, stretch at least 30 minutes a day. If you're building a body that has some functionality and athleticism to it, stretching is a must. If you want to stay injury free, have good posture, and add strength, then stretching is a must.
==================
What is the most important muscle group to develop when building the "ideal" body?