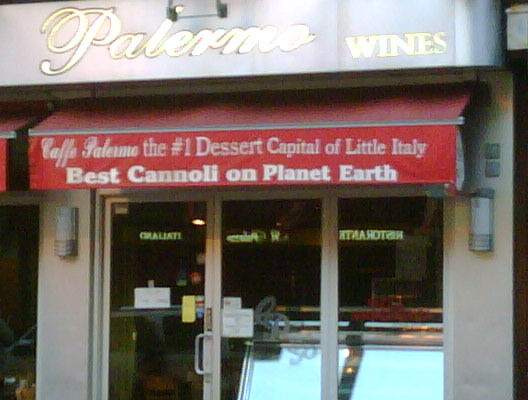 The are very good, very very good. But not the best I've ever had.
Here's a quick little article about a dessert that I love.
I enjoy a good cannoli every now and then, and it's funny where you find the best one's.
I live in beautiful Vancouver, Canada, in case you didn't know. And finding a good cannoli isn't easy up here. They don't exactly have them on every street corner.
We do, however, have the best one I've tried in a long time – including the desserts I've tried in Little Italy NYC every time I go there.
So where does this amazing cannoli get crafted?
Not in our version of Little Italy, commercial drive or east Hastings in Burnaby. Nope.
It's actually made by a nice old Italian guy who sets up shop in Granville Island. You can't always get them if you're there, because like a true Italian, he only makes them when he has the time or if he feels like it.
But they're worth the wait.
I just had one 5 minutes ago, which is probably why I'm writing with such passion and a vivid recollection of how good they really are.
This is, however, a web site about health and getting the body you've always wanted. But, more than that, it's about getting that body and being able to enjoy life and what you've accomplished.
Which is why I prefer to workout 2-3 hours a week instead of 5-6 like a lot of other trainer would have you do. Aside from the fact that you'll get better results with shorter, more intense workouts, you also get to enjoy life more.
After all you've only got one crack at it so you might as well make the most of it, agree?
I just got back from an intense 30 minute workout and rewarded myself with a tasty protein shake and a cannoli, not bad if you ask me.
One of my biggest goals is to enjoy life. I mean really enjoy life. Don't be a glutton and just do what makes you happy 100% of the time, because that's a pretty empty way of looking at it.
I mean work hard and enjoy the fruits of your labor. Don't starve yourself but don't stuff yourself either.
There's a fine balance in life much like there's a fine balance between being in great shape and actually living life to the fullest.
Work your butt off for a couple hours a week, and reward yourself once in a while, or else what's the point of being in great shape?
All this from eating a cannoli 🙂