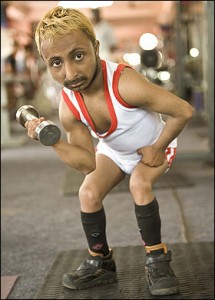 "Short Workouts"
The common thought out there is that quick workouts lasting less than 45 minutes, as low as 20 minutes, just aren't sufficient enough to gain any real muscle.

Well, they're wrong!
I thought I'd put together a quick little list of some of the benefits of doing quick workouts. I've been doing workouts no longer than 40 minutes, no more than 4 days a week for the past few years no and I've gained more lean muscle than I ever had with longer workouts.
If you're forced into working out less because of your job or family life don't worry, it can actually work to your advantage!
Here's a list of the BENEFITS of SHORT WORKOUTS.
The less time you spend in the gym, the more time you have to spend on doing things besides working out.
Less time to talk, mess around.
A plan is a necessity in short workouts, in longer one's people think they can get away with making things up as they go along.
There's no time to lose intensity. Longer workouts can get drawn out, people don't listen to their body because they feel as thought they have to complete every set, but end up losing blood flow to the muscles and have a lazy last few minutes in the gym.
Burn less muscle. Your body uses muscle and proteins as an energy source, once it's finished with the carbs in your system it moves to the next source. Having a quick, intense workout depletes your body of sugars, but doesn't give your body enough time or length of fatigue to move onto the next source.
You end on a high. When you lift hard you use up nutrients in your body. Take a multi vitamin, and a shake with a 2-1 carbs to protein ratio within 15 minutes of completing your lift for the best results. Ending a workout with the blood still pumping allows the nutrients to go directly to the source.
Pain. Pain is good when you're gaining lean muscle. With the reduced rest periods and the increased intensity of each set I've been in more pain during these workouts than I ever was with long ones and I think that's one of the main reasons why I've been able to gain lean muscle the way I have.
Next time you're worried about not spending enough time in the gym, fuggedaboudit, quick, intense, focused workouts are definitely the way to go!