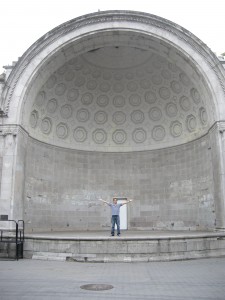 A 'Bucket List' is a list of things you'd like to accomplish or experience before you kick the bucket – or die.

You may think I'm WAY too young, at 24, to be thinking about death, or things that I'd like to do before I die. That may be due to the fact that at this age there's so much I haven't yet experienced, so the list could go on forever.
But, what the hell, why not. It's a fun goal setting exercise at the same time it helps put things into focus. It's something that I've always wanted to get down on paper and be able to check off as I go along.
When I started thinking about the list I began to think about what's most important to me in life as well as neat little things I'd like to try, or places I want to travel to. I don't want to make it a trivial list; it's a list that I can come back to year after year, and add more things on and check things off as I go along.
It's also not going to be all done in one blog post. Like I said, I want to be able to go back to this from time to time, let you know if I've accomplished something, and even add things onto it as the months and years go by.
I'm going to need a lot of help with this and I'd love your suggestions! Anything you can come up with let me know, and if you've completed something that I've put on my list I'd love to hear about it! Even if you've done something you've always wanted to do and it's not on my list let me know as well!
The list won't be in any specific order, I'll put numbers next to them just to be able to distinguish between each of the points listed, but one may not hold any more significance than another. There'll be up to 5 things each post that I dedicate to my bucket list.
So, without further ado, here's the first article of the things I'd like to do before I die; here's my Bucket List.
Although I'm not a fan of putting the 'number one' next to something because it automatically gives it such importance, I figure I may as well put something that is very important to me.
At 24 I can put this on the list because I haven't done it yet and it will take a lifetime to accomplish.
I'll start off by saying that I'm a bit of a sap. When I started thinking about a bucket list, I began to think about the things that are the most important things to me now and will be for the rest of my life, and family is right up at the top of that list.
So, the first thing I'm going to put down is…
1. One day I want to have a family of my own. Which means I want to get married to and grow old with the girl of my dreams.
It's not something that you'll see on many lists like this, but I figured it actually is something I'd like to get done before I take the dirt nap, so why not put it down! I think life is much better shared with people you care about, and that had a lot to do with my number one on the list.
2. I've always wanted to go Great White Shark cage diving where they attach bait to the side of the cage. I think that would be a truly awesome experience.
I think that would be an amazing thing to do!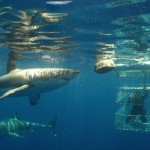 3. At some point, not in the near future, I'd like to do stand-up comedy.
I think that getting out of one's comfort zone helps with their growth as a person, and I think doing stand-up comedy would be the scariest thing ever!
4. At the moment I only know one language and I'd like to learn another one.  So, I'd like to learn Italian within the next year. I'm putting a timeline on this one because I think it's something I've got to nip in the butt as soon as I can.
I'll keep you posted on my progress. Any suggestions of tapes/cd's that'll help me learn Italian?
5. I'd like to paint a picture in Italy.
There are hundreds of places I'd like to travel to and there are even more things I'd like to accomplish in each of those places. But I've always loved art and I've always dreamed of going to Italy and I think that would be a great thing to experience. Maybe have a nice glass of vino with me while I'm creating my masterpiece 🙂
I watched the movie 'Return to Me' not too long ago which may have provided some inspiration for #5.
I'm just starting to scratch the surface and I'd love some ideas!