Our weaker self is a coward much in the same way. We need to draw him out in to the open and wage war. So, we give him a name, the Resistance. We fight this battle against the Resistance every time we are at a crossroads with our strong Self, and our weak Self. Even in our days, when that part of us wants to forgo our workout and watch TV. When we want to waste time on Facebook, texting friends. We fight this battle on a grander scale when we are given an opportunity, one that might entail a lot of risk, that may conjure up a great deal of fear. The Resistance will tell us to avoid it, the Warrior will tell us to take it on.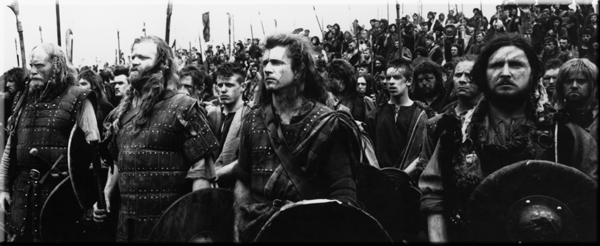 The Path to True Life is One Filled With Danger & Adventure
Every man dies, not every man really lives. ~ Braveheart
The Way of the Warrior is the way of life. For a man to live, he must fight. Life is a fight. It's a war. It's uncomfortable, it's ruthless, unforgiving, and hard. It's also a beautiful, unique, and exciting experience.
To live, we need to push ourselves; we need to extend ourselves. The entrepreneur understands this, as does any man trying to see his true potential realized – actually, break through what his perceived limitations may be. The Resistance will have us live a safe life, but no man lives in safety. Safety is that place we go to, to await death. It's a state not unlike a coma, where we're technically alive, but the evidence points to the contrary.
To be a man is to be a warrior. To be a warrior is to fight a battle. To fight a battle is to extend and push ourselves as much, and in as many ways as we possibly can. This is life. Push yourself to live.
You Will Have Tribulation, Take Courage…
King Agis was shown a new catapult, which could shoot a killing dart 200 yards. When he saw this, he wept. "Alas," he said. "Valor is no more."
We strengthen ourselves in tribulation and through a strenuous life. Ease breeds weakness. A warrior, and a man, can't allow weakness; he has no room for it, and there is no room for it in the battle of life.
King Agis said, Valor is no more, because the honor was being taken out of battle when a man could kill another without risking his own life. When he didn't have to think twice, or truly face his deepest fears – that of dying on the battlefield – before engaging in war, valor was brought out of the equation of battle.
In our lives, valor and life comes with hardship, it comes in battle. To live a great life we have to recognize these battles, give them a name, make sure they line up with our greater cause and purpose, and then fight them tooth and nail until they've been wiped from the planet.
You will have tribulation, and that tribulation isn't a bad thing or something you need to fear. It's what will make you and I into the warrior's we need to be if we're going to be the men we can, and should, become. So take courage, stay strong, and be Legendary.