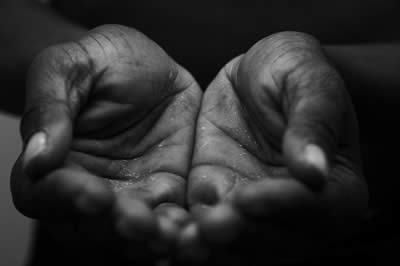 Life is one big pursuit of happiness. If what you're doing now isn't in that pursuit in some form or another, you're headed down the wrong path.
Almost everything we do is either in that pursuit, or is done because it makes us happy in the present. We get up early and work hard because we feel we're building something that will make us happier further on down the road. But the work and the journey also have meaning and a purpose. A purpose makes us happy.
Here are 7 ways to guarantee a happy life.
1. Give.
We're hardwired in a way that giving makes us happy. Really happy. And not just happy but fulfilled. Without the sense that we're making a difference our happiness can feel empty. It can be pointless and it can be fleeting.
The point of giving is to do just that, give. Not to expect anything in return or resent the receiver when you don't receive anything. Give your time, your guidance, your shoulder if it's needed. Just give. Don't get pushed around or taken advantage of, but give for the sake of giving. You'll be a happier person because of it.
2. Define success and have a mission.
Defining success is important for a number of reasons. By defining success we have a mission. We're headed somewhere. There's also a purpose to what we're doing. If we're just wandering aimlessly through life with no direction, it can get pretty depressing. There's no certainty. No meaning. No thing pushing us on to become better.
Defining success – our own personal success – should be personal. This is what you think success is. It shouldn't be based upon what others have done, or what our competition has accomplished. If we don't have a clear definition of success, we're always going to be comparing ourselves to other people. And like my friend Paulie Walnuts from the Soprano's said, that's like comparing "apples and bowling balls".
We start comparing ourselves to others in our industry or line of work, which then leads to us comparing ourselves to others in completely different industries. You can never compare your value, or your degree of success to another's, because it is literally like comparing apples and bowling balls. It'll leave you feeling empty and unfulfilled. You could have what millions of others would die to have, but there's still a void because you don't stack up to the guy you compare yourself to.
Find your definition of success. Then risk, work, and dedicate your life to achieving it.
3. Like yourself.
If you don't like who you are, you're not going to be happy. It's not being cocky, it's being confident. Confident in what you can do, how you can do it, and the fundamental understanding that you are a good person. Liking who you are is important.
Much of this can be attributed to a good upbringing, friends, a purpose in life, and everything else on this list. But even with these things in your life, you have to like who you are, and in my experience, every single person on this earth has a reason to do so. If you're reading this article, moving forward with your fitness and life, I'm guessing your reason's are endless.
4. Hang around happy people.
You are who you hang around with. If you hang around with depressed people, they'll rub off on you. The same can be said with happy people. Their happiness will rub off on you. Happiness is contagious. Be that fuel that fires your friend's happiness as well.
It's really important who you hang around with most. The benefits of hanging around with motivated and successful people are endless. But don't just seek them out to lift yourself up. It starts with you. Be that person that motivates others to be happier, more motivated, and purposeful people as well. Don't always be a taker, be a giver. It'll make you happy.
5. Find something you're passionate about.  
Dr. Timothy A. Pychil, a psychology professor, said this about happiness: "live it, don't buy it". Happiness can be bought. Don't kid yourself that this isn't true. I was happy when I bought my car, my laptop, moved into my new place, and bought the latest book I'm reading. But that feeling is fleeting. It's like our breath on a cold day, it's here for a moment, and then it's gone.
A life of happiness can't be bought, it must be lived. Find a skill, a hobby, a profession, or a mission that you're passionate about. I'm getting back into the boxing gym more often these days because it makes me happy. Start playing an instrument, travel, or pick up photography.
Live things that make you happy. Forget about buying happiness. Live it.
6. Have a short memory.
If someone wrongs you, forgive them. If something bad happens to you, fix it and forget about it. The ability to forget the bad stuff in life and move forward is a big key to having a happy one.
Those of us – myself included in the past – who hold grudges, and hold on to the bad memories are destined for a stressful, worrisome, and unhappy life. The weight of these bad memories multiplies. You have to learn how to truly forgive and forget. The ability to go with the flow is frequently cited by researchers as a key factor in our ability to live longer lives.
Regret, hate, and resentment wrinkle the skin, the heart, the soul, and the mind. If you're a fighter and you have a bad round, you have to forget about it and focus on the next one. If you're a goalie and you let in a bad goal, forget about it. Don't let that one mistake hinder the rest of your game. Life is no different. If you make a mistake, accept the consequences like a man, don't complain, and keep moving forward.
7. Train your body to be happy.
Being physically fit leads to more energy, a better ability to focus, to work harder for longer hours, and to a greater degree of happiness. It's not so much that training is fun – although I love it – it's the hormonal and physiological effects that fitness and being physically fit has on our bodies.
When we workout we release powerful hormones and endorphins that act like drugs. Ever heard of the 'runner's high'? Well it's real. Being more physically fit, and the actual act of working out helps us be happier people.
I've had people close to me suffer from depression. One of the 'cures' is to be active. When they're active they're happier. When they become more sedentary, the symptoms of depression return. A lot of the time they don't realize it's happening, but it's easy to see when you're on the outside looking in.
Get out and get fit. Join a league, buy a program (buy this one, it's the best), and live a happy life dammit!
There's a lot of other things that could be added to this – What Would You Add As #8?