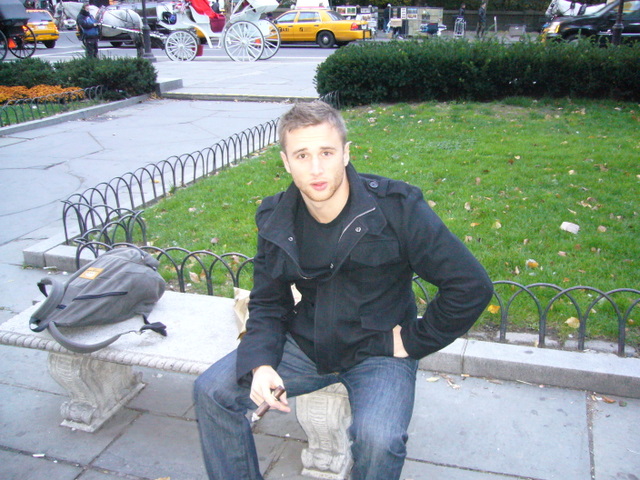 Grabbing an Ashton VSG in NYC with a buddy of mine.
Our goals, wants, desires and needs shouldn't revolve around "things". Things are fleeting. As is the happiness they give us. But things are a part of our lives, and sometimes they do make it more enjoyable, even if only for a moment.
I also believe that people who look for and enjoy quality in their lives – whether that be in their own careers, relationships, in their giving, and even possessions – work harder, and find that quality when other's might not care to do the same.
In the name of appreciating quality. That is, the best in a given field. I bring you 5 awesome things. These things are so awesome that I had to find a way to highlight them on this site – hence the creative title. If you have something else that you feel is too awesome not to mention, then feel free to add it in the comments section and I'll have a look at it and maybe have it in a future article.
1. Humblecock Clothing
hum•ble•cock /ˈhɅm bəl ˌkɒk/ n. 1  a quietly confident individual who does not brag or otherwise flaunt his successes     2  one who chooses to forgo arrogance in favor of modesty
Have you ever heard of a clothing company with such a great motto?
I just got my first shirt in the mail. It's made out of 100% Egyptian cotton, and it's just about the highest quality t-shirt I have. They have great design, and a great company with an awesome motto.
Their web site: http://humblecock.com/
Become a fan of their facebook page: http://www.facebook.com/humblecock
2. Macallan 10-year Scotch Whiskey
Want some nice, smooth whiskey without breaking the bank?
Try Macallan's 10-year. It's still a bit much to spend on a bottle of liquor, but in my mind it's worth it. The problem will come with portion size. I find it hard not to go back for seconds. It's the youngest in their line. If you're up to it and looking for a new night cap, give their 12,15 or 18-year a shot as well.
Another suggestion: Highland Park 12-year. It's stronger than the Macallan, but a nice change of pace.
3. Ashton VSG Cigars
Cigars, like whisky, and wine, are about personal taste.
I'm by no means a cigar connoisseur.  But I've been smoking them – albeit occasionally – for a while now. And I know what I like. If you're new to smoking cigars, start with something a bit lighter. The VSG is a strong cigar.
Where some of the nicer cigars can run you $40, $50, and $60 a pop, the VSG will cost around $12 a cigar.
An alternative that is a bit pricier, is the Padrón Family Reserve line. The two best cigars I've ever had, were the VSG in New York, and a Padrón in Key West. We get Cuban's up here in Canada, so I've had my fair share of Cohiba's and Monte Cristo's, but nothing has topped the VSG or the Padrón.
4. Kilkenny Irish Draught
Beer! How could I leave you out of the 5 things that are awesome? Well, I couldn't. This beer's a bit smoother than it's 'cousin' Guinness. And my goodness does it taste good!
If you haven't tried it yet be sure to grab a pint as soon as you can. It's a delicious beer that I only have on occasion. Which may explain why I crave it so often. It's a treat. I don't see it on tap in too many places, but when I do I grab a pint 100% of the time.
5. The PowerHowse Challenge
I've been back in the gym doing the same workouts that helped me gain 32 pounds in 32 weeks and get in kick ass amazing shape. And I'm loving them. There's nothing more intense and more effective in my mind.
More recently I packed on 7 pounds in 21 days, without gaining fat. I'm looking bigger and leaner – a seldom seen combination and I'm loving it. Any time I need my ass kicked I just go back to these workouts and they feel freaking awesome.
Check out the PHC and how I gained 32 pounds of lean, athletic muscle in 32 weeks, and how you can do the same:
http://thepowerhowsechallenge.com/
What would you add to the 'awesomeness' list if I made a #6?
_____________________________
Enjoy this article?
Sign up below and get my "7 Strategies to Gain 7 lbs of LEAN, ATHLETIC Muscle in 21 Days Video Series" FREE + weekly updates that aren't found on the blog: