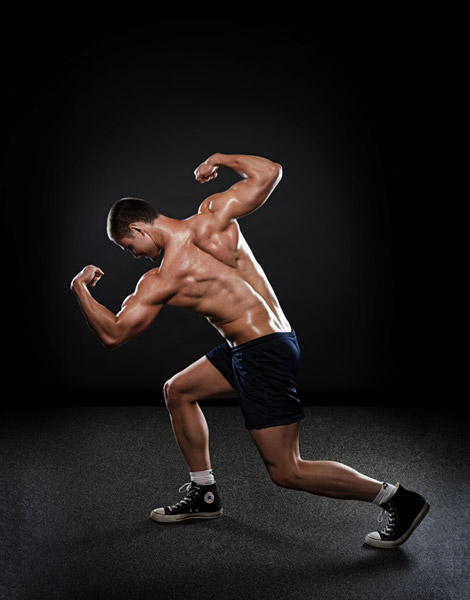 This site is here to help you transform your body and life into something extraordinary. Something legendary. It's an asset. Just as I needed help to begin building the life that I wanted to live and a body that I was happy with, hopefully this site will lend a hand where it's needed as well. In the theme of giving you guys the tools you need to help you with your training goals, I bring you Sean Hyson.
Sean's the fitness editor of Men's Fitness. A guy who at the ripe old age of 29 is doing great things in the fitness industry which includes his blog – Click Here For Sean's Blog – something that you definitely check out for it's abundance of great, content-rich articles.
Sean also went through a recent transformation where in 12-weeks he lost 35 pounds while adding 50 pounds to his squat. He's one of those unique people that not only has the knowledge to tell you how to make changes in your physique, but he has actually done it himself.
Alright Sean, I know you worked at the magazine for a while before deciding to go for your transformation.
So what pushed you towards the awesome results that you achieved in only 3 months?
"Well I had done a great program before, and was doing the program, but I felt run down and fat. It wasn't the program's fault, it was more my own stubbornness, but I knew I needed to try something new and different.
I also felt like this isn't how an editor at a fitness magazine should look. So even though I wasn't in terrible shape, I definitely wanted to make improvements."
What did you change in your routine and what did you focus on that helped you achieve these results?
"Once a week I made the treck out to Jason Feruggia's gym – which was a 90-minute ride by subway – the rest of the week I'd workout on my own. I didn't go out, no alcohol, no cheese, I cut out as much fat as I could. I just wanted to take no chances. I wanted to do the best I could in the 3-month period, so I couldn't be having anything that was counter-productive."
How did you last for 3 months with such a strict routine?
"Well the first 4 weeks were easy, 2nd 4 weeks were a bit tougher, and the 3rd 4 weeks were awful. I just had to keep focused on why I was doing this and that in the grand scheme of things it isn't all that long.
But I like to tell people that it doesn't have to be brutal. You can still eat some of the foods you like. All you have to do is diet, and lift weights. You don't  have to do crazy amounts of cardio or run your body to the ground – that ends up doing more bad than good."
Sean's 4 Tips to Transform Your Body
1. Embrace fat
Most people associate eating fat with gaining body fat. While fatty foods are high in calories, they're still good diet choices. Foods like avocados and nuts help fill you up, and they go a long way in adding flavor when your other food choices are so restricted. If you're following a low-carb diet like I was, you can eat more fat without weight gain.
2. Tell yourself you're better than everyone else.
No, it's not true, but it will help to keep you motivated. Anyone can diet and train and get great results—it really isn't that hard. But the fact is that most people don't and never will. I took pride in knowing that I was pushing myself further than most of the population would tolerate, and it helped me continue at times when I really wanted a break.
3. Don't change your training.
One of the myths in our industry is that you have to train one way if you want to get big and strong and train another if you want to get leaner. While you can train a bunch of different ways to reach any goal, the truth is that the SAME workout that builds muscle will also help you burn fat. When you're dieting hard, keep your reps low and your weights heavy to preserve strength. You don't need to run all over the gym with some high-rep circuit. That won't get you cut any faster.
4. Stick to your diet.
This goes hand in hand with my last point. The kind of training you do doesn't matter nearly as much as cutting calories and eating the right foods. You can't cheat left and right and eat out every night and expect big changes in your physique. Dieting is about discipline. Keep track of what you're eating and get used to eating off a limited menu. Remember that it's not going to be forever. Once you've made significant progress, you can loosen up. It doesn't take much to maintain a lean body once it's been earned.
Check out Sean's Blog —–> HERE
_________________________________________________________________________________________________
Find this article helpful?
You may also be interested in "the PowerHowse Pre-Workout", as well as weekly bonus info that isn't found on the blog. Both for free.
Just let me know the best email address to send it to: