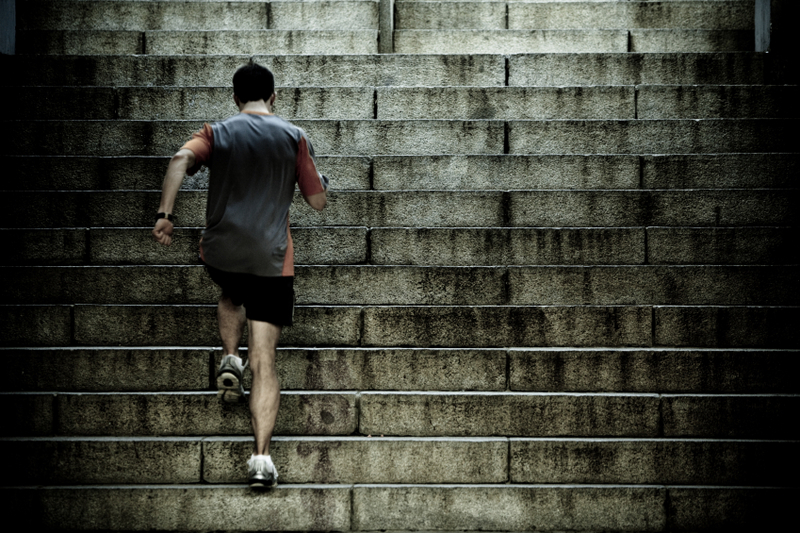 Age wrinkles the skin. Quitting wrinkles the soul. Douglas MacArthur
A simple truth that I learned at a young age:
There is someone out there with more talent than me, working hard trying to succeed. The only way I can beat him is if I work harder than him. If I don't, he'll have the success that I could have had. He'll reach the heights that I was meant to reach but didn't because I didn't work hard enough, or smart enough.
Sport doesn't build character, it reveals it.
I grew up playing hockey. At the age of 3 my Dad strapped skates on to my tiny feet and sent me out on the ice. From that day on, I fell in love with sports. Even more-so, with competition. Little did I know that the most valuable lesson sports would ever teach me is that someone else is out there risking more, working harder, and doing more to succeed than I am.
In high school, basketball took over as my primary sport. The lesson was then drilled home by a coach, who was actually more of a friend and a mentor. A guy who would teach me more about hard work than anyone else in my life up to that point.
Being 10 years older than I was. And being a very talented ball player in his own rite – who'd seen his dreams slip away – he would die for me not to make the same mistakes he had made.
Training with him was – both physically and mentally – the hardest thing I had ever done. I'd do ball-handling drills until my fingers bled. I'd run hills with a weighted vest, I did hours of sprints, worked on jumping, and eventually lifting until I'd puke. I wanted to quit time and time again, but the one thing that he kept on telling me is that "someone else is out there, who's more talented than you are, and they're working right now. They're shooting, dribbling, sprinting, and they're not giving up."
After playing a year of college basketball, and having been told that my knee was too damaged to continue, I took a year off from all sports. That year off ended with me walking into a gym, and falling in love once again, this time with the sport of boxing.
In no other sport does the thought of quitting arise as much as it does in boxing.
I like to think of boxing as a microcosm of life. Where the thought of quitting comes up all the time in life, it's separated into more spread-out segments. In boxing it's separated by seconds.
It exists in the last 30 seconds of a 3-minute bag drill. It exists in the first round of sparring when you get rocked to the body, and you can't breathe for 10 seconds. It exists after your first loss, the first time you get rocked and don't know where you are. You question if all of this pain is worth it. What am I here for after all?
The thing you begin to realize, is that every time you don't quit, you're building character. Every time you take one more step forward instead of a step backwards, you're becoming a better man.
What kept me in boxing was the fact that I just loved to sport. What got me out of boxing was my site and my new line of work. Another risk that, in my mind, was a much greater risk.
"There's only one thing that can guarantee our failure. That's if we quit."
The thing about boxing, and about any sport, is that we can identify very easily why we want to quit: because of the pain in our lungs, the lack of oxygen to our muscles, the nose that just got broken, and so forth. But in life it's a bit different.
We slack in areas that are the hardest. We take days off from the gym because we feel like we're 'getting warn down', or we're feeling a tad under the weather. We skip the hard things because they aren't fun. They're, well, hard. But those are the things that make the difference. Those are the areas of life where we need to push through to the end. That is where we break through.
Life is like a sculpture. Sometimes we have break throughs and break off big chunks. We take big steps closer to our goals. But the majority of life is in the details, when the artist makes little indentations. The better he is at the little things, the greater his masterpiece will be.
The better we are at the details, the small things that we often hate to do, the more beautiful our masterpiece – our life – is going to be.
"Effort only fully releases its reward after a person refuses to quit." Napoleon Hill
______________________________________________________________________________
What part of life has taught you most about perseverance?
Is it a specific sport, school, a had time in your life?
(Let me know in the comments section!)
It's time to stand up to the challenge and reach your true potential.